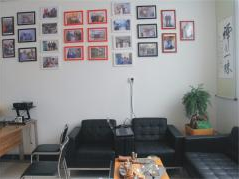 Our company specializes in quenching, furnace, high frequency quenching, high frequency quenching furnace, hardening equipment. Using the German original Siemens IGBT power module, FUJI rectifier module, power output of epoxy resin cast transformers, 24 hours of continuous work. Effects of electromagnetic theory, the alternating magnetic field in the metal material within the rapidly induces a large eddy, so that the molten metal temperature until an electric induction heating equipment, but also penetrate non-metallic materials, metal materials or local All the rapid heating.
Old-fashioned high-frequency induction furnace, high voltage step-up access is by a direct step-up transformer for AC 380V, and its poor security, huge in size and power consumption, high maintenance costs of traditional coal oven heating, box-type electric heating, oxyacetylene heating equipment, welding and heat treatment, not only pollute the environment, waste energy, but slow and inefficient.
A new generation of high-frequency micro-power license induction heating power supply, completely changed the above-mentioned shortcomings, is the price recommended by the best environmental engineering heating equipment.